Asheville Brewing Box Set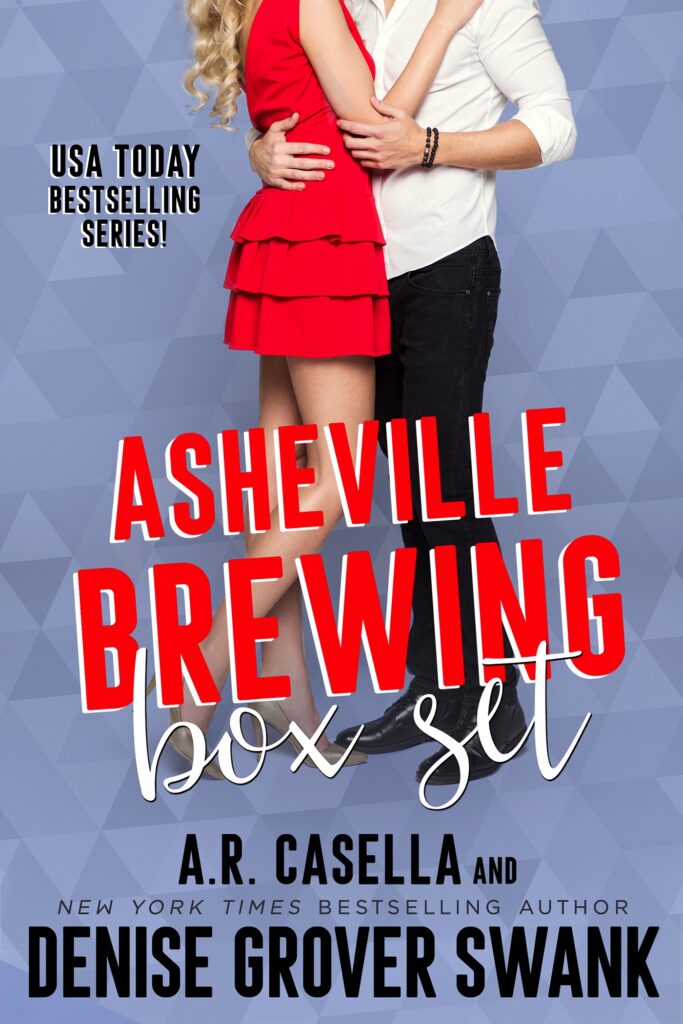 Box set featuring the USA Today bestselling Asheville Brewing series.
Four hilarious happily-ever-after, full-length books, two novellas, plus bonus material for each book!
The estranged Buchanan siblings are reunited when their grandfather leaves them his crumbling brewery, and his eccentric long-time girlfriend helps them find love and happiness in Asheville...one disaster at a time.
All the Luck You Need - prequel novella
Dottie Hendrickson has always believed in signs—until the signs suggest she's about to meet a man. Newly divorced and over sixty, she'd prefer to find love for other people, but the universe is nothing if not stubborn. Dottie's offered a job hosting beer tastings at Buchanan Brewery, and it's immediately obvious the owner is the one she's meant to meet.
Any Luck at All
Georgie Buchanan doesn't know the first thing about running a brewery—she doesn't even like beer—so she's out of her element when she and her siblings inherit their grandfather's money pit. Her one hope for success lies with River Reeves, the handsome brewmaster who learned at her grandfather's feet...if she can avoid falling for him.
Better Luck Next Time
Adalia Buchanan broke up with art, but it won't break up with her. So she paints in secret, then destroys her work.
After selling his brewery, Finn Hamilton's supposed to be living large. Instead, he's lost his way. When he stumbles upon Adalia Buchanan destroying a masterpiece of her own creation, two thoughts come to mind: one, she looks like a Valkyrie with blonde hair swinging and paint flying from her blade, and two, she's talented. Very talented. He's suddenly eager to get to know her better.
Too bad Adalia thinks he's arrogant and conceited, a modern-day Mr. Darcy.
Getting Lucky
One night. Just one night. That's what Maisie tells herself when she brings Jack Durand home. Because even though his arms are things of beauty and he can charm wild animals (a huge turn-on for an animal lover like her), she's in no position to start anything with anyone.
Jack is of the same mind. His little sister is moving to Asheville as his ward, and between getting her through high school and working at the family brewery, he doesn't have time for a girlfriend. But he can't stop thinking about sexy, no-nonsense Maisie, and it turns out he doesn't have to. Her best friend, River, announces his engagement to Jack's half-sister, and—surprise!—they're both in the wedding party.
Bad Luck Club
Lee Buchanan had nothing to do with his father's Ponzi scheme, but he's blacklisted from commercial real estate all the same. Which is how he ends up in Asheville, working at the brewery he inherited with his siblings. He's salty as hell, and he doesn't care who knows it.
Until the gorgeous, intriguing Blue Combs issues the most peculiar invitation he's ever received: Come to the Bad Luck Club. We can help you.
Luck of the Draw
Crashing weddings is so not my thing. I'm a single mom, scrambling to keep a roof over my sons' heads. But then I get a challenge from the Bad Luck Club, the group I joined to turn my luck around: Do something that breaks the rules. One ill-advised confession to my best friend later, I'm strapping on a pair of heels and crashing the wedding of two of the owners of Buchanan Brewery.
The last thing I expect is to meet someone, let alone the sexy younger bartender who calls me out and finds my lost shoes, something straight out of Cinderella. And the very last thing I expect is to fall for him.